It is known to all that we can easily embed YouTube video to our blog or websites. It is no need to
download YouTube
videos and host on your server. As on the page of YouTube video, there is an embed button below the video, click that button and a small window with embed code will stretch out, just copy and paste the code from that window to your blog or website you want the video to be embedded to, then the YouTube video will show in your blog or website. Just as shown in the below graphic:
To do that is as easy as ABC. So why not do some further discussion of this topic? Image that some of us don't like YouTube's player, they just want to display their YouTube videos in a good looking Flash video player...is it possible?
Yes, we can do that. The question is how to make such a personalized beautiful looking player for YouTube videos.
We can make it in Adobe Flash for sure. But Adobe Flash is a large program, complicated to use and rather expensive. In fact,
Moyea Web Player
is a better choice. As Moyea Web Player is straightforward and powerful. Every single aspect of Flash video player can be customized through this program. And we can easily play YouTube videos on website with self-customized Flash video player with its
YouTube video plugin
.
Suppose you have installed Moyea Web Player and its YouTube video plugin, the below tutorial guides you how to do that.
Where this plugin appears:
After installing this plugin, it will appear on the following interface of Moyea Web Player.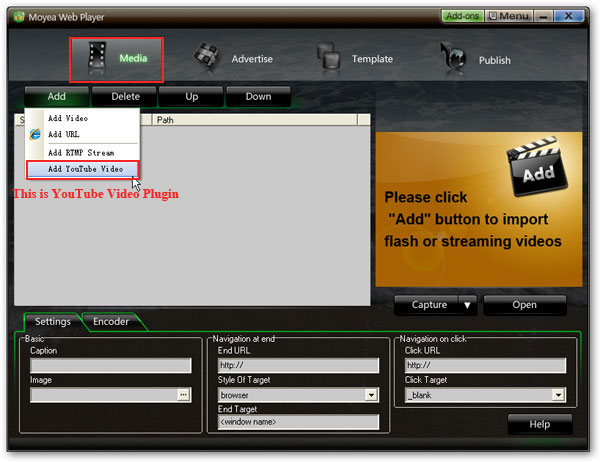 How YouTube Video Plugin Works:
During the flash video player customization with Moyea Web Player, click "Add YouTube Video"to input URL address of YouTube video in the pop-up window. Hit "OK" to submit.
Add Advertisements to the Inserted YouTube Video on "Advertise" Interface:
Click here to learn more about how to add HTML or Javascript ads to YouTube video.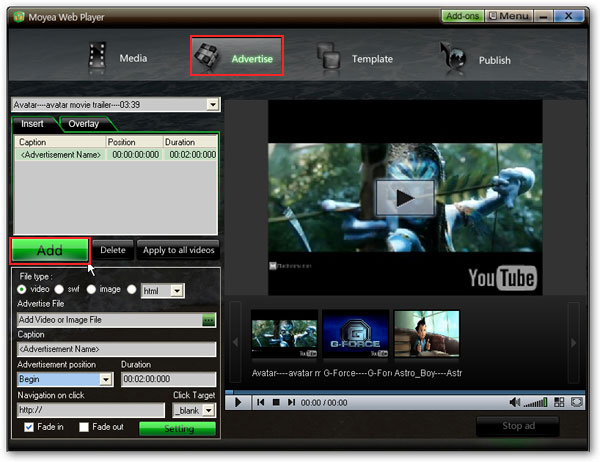 Note: Only the latest Moyea Web Player V2.3.0.3 and up versions support to auto-capture YouTube video thumbnails for playlist( shown above). For early versions, please manually capture it on "Media" interface.
Implement Other YouTube-Video Recontrols and Player-DIY Functions on "Template" Interface:
For example, setting player style, selecting player profile, adding watermark, creating external playlist and so on.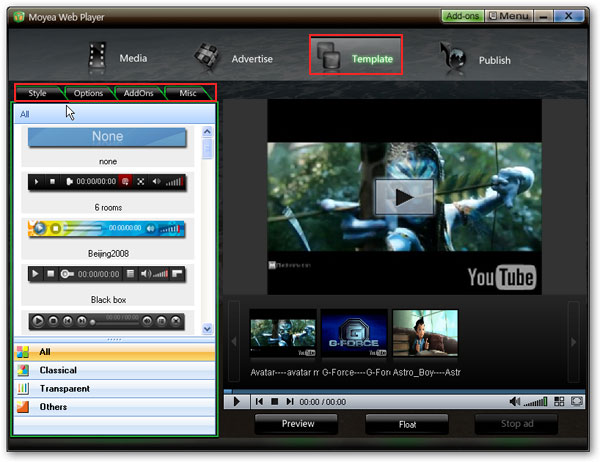 Click "Publish" at last, then you will get a totally customized Flash video player with YouTube video inside for playback on target webpages.